Certification according DIN ISO 9001:2015 and quality policy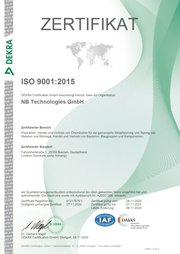 NB Technologies is certified according to DIN ISO 9001:2015.
Download certificate
NB Technologies GmbH is engaged in the production of chemical solutions for electroplating and etching and offers its products to customers working in the semiconductor industry, microsystem technology and research and development.
Traditional values such as reliability, fairness or responsibility are an integral part of the corporate guidelines.
In order to meet such obligations and to maintain and strengthen the reputation and success, the management defines our company policy. We are focused on the success of our customers as well as our employees.